These quick pitta pizzas are perfect if you want a quick, light meal.
Quick Pitta Pizzas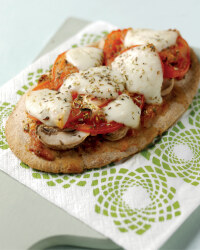 Recipe Information
Ingredients
p>4 wholemeal pitta breads
4 tbsp tomato puree
1 handful mushrooms (cup or button) sliced
4 tomatoes thinly sliced
125g light mozzarella cheese sliced
2 tsp dried mixed herbs
1 pinch ground black pepper
Method
Preheat the oven to 190°C, fan 170°C, gas mark 5.
Place the pitta breads on a baking sheet.
Spread 1 tsp of tomato puree onto each pitta, then top with the mushrooms, sliced tomatoes and cheese.
Sprinkle with the mixed herbs and season with black pepper.
Bake for 10-12 minutes, or until the cheese is melted and bubbling.
Serve with salad.