This delicious ratatouille pasta bake is packed full of vegetables - a tasty way to get towards your 5-a-day.
Ratatouille Pasta Bake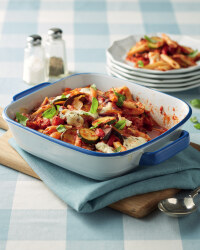 Recipe Information
Ingredients
280g Gluten Free Pasta
½ Aubergine
1 Courgette
2 medium Red Onions
½ of each red, green and yellow peppers
2 cloves garlic
30ml Extra Virgin Olive Oil
1 x 400g tin Sweet Harvest Chopped Tinned Tomatoes with Herbs
1 x 500g carton Cucina Passata
1 x 125g Cucina Mozzarella Cheese
10g fresh Basil Leaves
Sea Salt and Black Pepper
Stonemill Paprika to sprinkle
30 x 25cm Baking Dish
Find your ingredients online on Click & Collect or find your nearest store using our Store Finder.
Method
Preheat the oven to 200⁰C/400⁰F/Gas Mark 6.
Cut the aubergine in half lengthways and slice thinly.
Cut the peppers into thin strips and remove any seeds and white pith.
Peel and cut the onions in half and thinly slice.
Trim the courgette and slice thinly.
Peel and finely chop the garlic.
Cook the pasta in slightly salted boiling water for about 6 minutes until al dente.
Drain the pasta and keep to one side.
Sauté the aubergine, peppers and onion in a large wok or frying pan in the olive oil for about 5/6 minutes stirring as you cook.
Add the courgette slices and the garlic.
Cook, stirring for a further 5 minutes.
Add the chopped tomatoes and the passata, season with a little salt and some black pepper and bring to the boil.
Mix the penne pasta with the vegetable tomato sauce then pour into the baking dish.
Drain the mozzarella and chop into small pieces.
Sprinkle over the torn basil and the cheese.
Bake in the oven for 15 minutes, sprinkle over some paprika and serve.