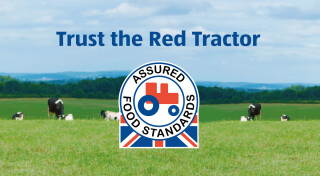 Trust the Red Tractor
Here at Aldi we are committed to providing you with the best Britain has to offer and that means 100% British across a wide range of everyday fresh meat and fresh produce. By partnering with Red Tractor suppliers in the UK, you know that you can trust the products you buy when you see the Red Tractor logo.
David Clarke, CEO of Red Tractor
"Aldi has a fresh meat range to be proud of. It is 100% Red Tractor Assured all year-round. What does this mean to shoppers? It means that they can trust Aldi for providing quality fresh meat that have met strict standards from farm to pack, always."
From farm to fork
Red Tractor is the largest food standards scheme in the UK, covering animal welfare, food safety, traceability and environmental protection. Food and drink bearing the Red Tractor logo has been produced responsibly to some of the most comprehensive and respected standards in the world. The way that the food is farmed and prepared is regularly tested by independent experts to make sure it's of a good standard.
Enjoy Quality Assured Fresh Meat
Fresh British Beef
By only selecting 100% fresh British beef from Red Tractor Farm Assured Sources, we can trace all of our meat back to their farms, and always be sure that we sell the best quality fresh British beef.
Fresh British Pork

Our pork is produced to some of the most comprehensive standards in the world. The focus our Farmers put on their livestock assures you the best possible standards in animal husbandry.
Fresh British Lamb

We're proud that our 100% British Lamb meets the strict guidelines set out by Assured Food Standards. Not only are you buying great quality Lamb at a great price, you are also helping British farmers.
Fresh British Chicken

All our chickens live in secure houses with access to food, water and warmth. They are fed only quality ingredients so you can be assured of a Class A product that is fresh and succulent.
Delicious Recipes
Find a little inspiration today, using the freshest Red Tractor Assured produce.