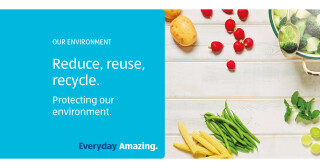 How we're tackling packaging and plastic waste
Aldi has always been committed to tackling waste, and helping our customers do the same, to minimise our impact on the environment.
That's why we have committed to being a founding member of WRAP's new cross-sector initiative, which will transform the UK plastics system and tackle plastic pollution.
It's also why, in March 2018, we created a wide-ranging packaging reduction strategy and committed to ensuring that all packaging on our own-brand products will be recyclable, reusable or compostable by 2022.
We will be taking a number of steps to make this happen, including removing 5p carrier bags from our stores by the end of 2018, and will instead offer customers bags for life and reusable carrier bags made from back-of-store plastic waste.
We have pledged our support, in principle, for a national deposit return scheme (DRS) for plastic bottles and are currently assessing the feasibility of how we could implement such a scheme.
We will report on our overall progress each year and, to help hit those targets, we are creating a packaging task force – made up of both independent experts and those from within our business – to drive innovation.
The Aldi 10 Plastic and Packaging Pledges
1. By 2022 Aldi aims for 100% of all own label packaging to be recyclable, reusable or compostable (where it does not have a detrimental effect on product quality or safety, or increase food waste).
2. By 2025 Aldi aims to achieve 100% recyclable, reusable or compostable packaging across all products (where it does not have a detrimental effect on product quality or safety, or increase food waste).
3. By 2025, Aldi aims to reduce packaging by 50% (relative to 2015 baseline).
4. By 2025 Aldi aims for 50% of its packaging to be made from recycled material.
5. Aldi will publicly report on its packaging progress annually starting in 2019.
6. Aldi will educate customers on the importance of waste reduction (reduce, reuse, recycle) through its community programmes.
7. All single-use plastic bags will be scrapped by the end of 2018.
8. Aldi will work in partnership with other retailers to reduce its dependence on plastic.
9. Aldi will establish a Packaging Task Force with its Buying Teams and external experts to deliver these goals.
10. In principal Aldi supports a Deposit Return Scheme for plastic bottles and is conducting a feasibility study into how it could implement such a scheme.
None of the waste we produce has been sent direct to landfill since 2014
For every 2 tonnes of food consumed in the UK, another tonne is wasted. Food waste in the UK has an approximate value of £19 billion a year. As our population grows, it's increasingly important to reduce food waste in order to help tackle food poverty and minimise environmental impact.
As one of the UK's biggest retailers we have a responsibility to be part of the solution.
That's why in February 2016 we became one of the first signatories to Courtauld 2025, a ground-breaking 10-year commitment in the food industry brokered by WRAP that hopes to make food and drink production and consumption more sustainable. The aim is to:
• Reduce food and drink waste by a fifth per person
• Reduce associated greenhouse gases by a fifth per person
• Improve water stewardship
No wonder we're so proud. It's a fantastic collaborative project, which focuses on building relationships between growers, manufacturers and retailers to reduce food and drink waste across the supply chain. And we will be working closely with WRAP to plan how we can maximise our impact over the 10 years of the programme and ensure that we send zero food waste direct to landfill.
How we're reducing food waste
None of the waste we produce has been sent direct to landfill since 2014. That's amazing! And so is this:
A number of our suppliers sell surplus Aldi branded food products at discounted rates to those in need through our partnership with Company Shop and Community Shop. The scheme also provides life skills training such as cookery and debt management – empowering people to gain employment.
Since October 2015 we have:
• Saved 406 tonnes of food from landfill
• Saved an equivalent water footprint of 150 Olympic-sized swimming pools
• Saved the equivalent of 1,625 tonnes of CO2 – equal to taking 710 cars off the road for a year!
For the past 5 years we have also been donating thousands of meals for vulnerable people in the UK through our partnership with FareShare, a registered charity that redistributes surplus food to local charities throughout the UK. Between June 2015 and June 2016 we have donated the equivalent of 216,000 meals via Fareshare to day-care shelters, women's refuges and children's breakfast clubs. We also provide food to other smaller charities local to our regional distribution centres.
And in Ireland, we support local charities by donating a proportion of our excess food from a number of our stores to charitable organisations through FoodCloud, Crosscare and the Bia Food Initiative.
FoodCloud is a not-for-profit organisation that pairs our stores with local charities that would benefit from our surplus food. Our stores in Ireland are making connections with approximately 194 charities. We are immensely proud of our FoodCloud partnership, and to show our commitment we have pledged to donate the equivalent of 500,000 meals by the end of 2016.
We also help reduce our suppliers' food waste through the National Farmers' Union (NFU) Fruit and Veg Pledge. This helps us enable suppliers to align growing volumes to demand more closely and committing to agreements made at the start of contracts.