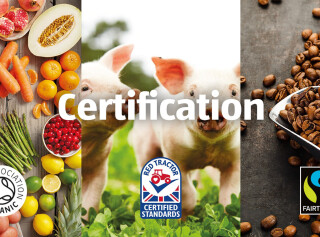 We work closely with a number of certification schemes to support our responsible sourcing strategy. By meeting the strict standards set by these certification bodies, if the products in our stores carry their logo then you can be assured of high quality, full traceability and sustainable social and environmental practices.
Aldi have an on-going commitment to increase the number and range of sustainably certified products in our stores.

Red Tractor
At Aldi we are committed to providing you with the best Britain has to offer and that means 100% British across a wide range of everyday fresh meat, dairy and fresh produce. By partnering with Red Tractor suppliers in the UK, you know that you can trust the products you buy when you see the Red Tractor logo.
Red Tractor is the largest food standards scheme in the UK, covering animal welfare, food safety, traceability and environmental protection. Food and drink bearing the Red Tractor logo has been produced responsibly to some of the most comprehensive and respected standards in the world. The way that the food is farmed and prepared is regularly tested by independent experts to make sure it's of a good standard.
Find out more about Aldi's British Sourcing here.
Products: British beef, lamb, pork, chicken, turkey, dairy, fruit and vegetables
Learn more: www.redtractor.org.uk

RSPCA Assured
Aldi has one of the fastest growing ranges of RSPCA Assured Products of any UK supermarket.
All of Aldi's organic and free range eggs and free range chicken is RSPCA Assured. This makes Aldi one of the largest retailers of RSPCA Assured free range chicken. We also sell a range of Specially Selected pork, salmon and free range eggs.
RSPCA Assured is the RSPCA's ethical food label dedicated to higher farm animal welfare. They are a charity and operate independently from the farming industry.
Find out more about Aldi's Animal Welfare policies here.
Products: Specially Selected pork joints and steaks, free-range chicken, salmon and free-range eggs.
Learn more: https://www.rspcaassured.org.uk/about-us/

British Lion Quality
All eggs that carry the British Lion mark have been produced under the stringent requirements of the British Lion Code of Practice which ensures the highest standards of food safety. The code covers the entire production chain and ensures strict food safety controls including the guarantee that all hens are vaccinated against Salmonella and a 'passport' system ensuring that all hens, eggs and feed are fully traceable.
Find out more about Aldi's Animal Welfare policies here.
Products: British Eggs
Learn more: www.egginfo.co.uk
Leaping Bunny
The Leaping Bunny Logo is the only internationally recognised logo guaranteeing consumers that no new animal tests were used in the development of any product displaying it.
Find out more about Aldi's Animal Testing policy here.
Products: Cosmetics, toiletries and household products
Learn more: www.leapingbunny.org

MSC (Marine Stewardship Council)
The MSC blue fish label is only applied to wild fish or seafood from fisheries that have been certified to the MSC Fisheries Standard, a science-based set of requirements for sustainable fishing. Each MSC certified fishery has been independently assessed on its specific impacts to wild fish populations and the ecosystems they're part of. We're proud to offer our customers the largest proportion of sustainable seafood in the UK, as published in a league table on 18 April 2018. In 2019, 76% of our wild-caught products were MSC certified.
Find out more about Aldi's Responsibly Sourced Fish policy here.
Products: Wild-Caught Fish
Learn more: www.msc.org

Fairtrade and FSI (Fairtrade Sourced Ingredients)
The Fairtrade logo is recognised around the world. Fairtrade is about better prices, decent working conditions, local sustainability, and fair terms of trade for farmers and workers in the developing world. Farmers receive a Fairtrade Minimum Price and a Premium to choose how to invest in their community. The new FAIRTRADE Sourced Ingredients (FSI) Mark is used for one or two ingredients in a wider range of products e.g. cocoa. Look out for this logo on our products containing Fairtrade cocoa as we aim to be 100% certified by the end of 2020.
Find out more about Aldi's Fairly Traded products and policies here.
Products: Cocoa, coffee, tea, flowers, wine
Learn more: www.fairtrade.org.uk

Rainforest Alliance
The Rainforest Alliance 'green frog' logo indicates that a farm, forest or tourism enterprise has been audited to meet standards that require environmental, social or economic sustainability. In order to become certified, farms must meet criteria of the Rainforest Alliance Sustainable Agriculture Standard which cover:
•Biodiversity conservation
•Improved livelihoods and human well-being
•Natural resource conservation
•Effective planning and farm management systems The Rainforest Alliance merged with UTZ in 2018.
Find out more about Aldi's Fairly Traded products and policies here.
Products: Tea, coffee, bananas
Learn more: www.rainforest-alliance.org

Soil Association (and other organic certifications)
The Soil Association is one of a number of organic certification schemes. They developed the world's first organic standards in the 1960s. Products must meet strict European laws about the production of organic food and also go further in key areas such as animal welfare, protecting human health, and safeguarding the environment.
Products: Fruit and vegetables, wine, eggs, dairy, Mamia baby food and drinks
Learn more: www.soilassociation.org

LEAF (Linking Environment And Farming)
LEAF Marque is a farm assurance system, showing that food has been grown sustainably with care for the environment.
The principles of Integrated Farm Management (IFM) underpin the requirements of LEAF Marque certification. A farm business managed to IFM principles will demonstrate continuous improvement across the whole farm including: Organisation and Planning, Soil Management and Fertility, Crop Health and Protection, Pollution Control and By-Product Management, Animal Husbandry, Energy Efficiency, Water Management, Landscape and Nature Conservation and Community Engagement.
Over 55% of our British produce growers are LEAF certified.
Products: Fruit and vegetables
Learn more: www.leafuk.org

FSC (Forest Stewardship Council)
FSC (Forest Stewardship Council ) helps take care of forests and the people and wildlife who call them home and is recognised by WWF as the "hallmark of responsible forest management". The FSC label guarantees that the trees that are harvested are replaced or allowed to regenerate naturally and some parts of forest are protected entirely. FSC gives an assurance that future generations will be able to enjoy the benefits of the forest.
Find out more about how Aldi is tackling deforestation here.
Products: Wood based products and packaging eg. Toilet paper, advertising materials, furniture.
Learn more: www.fsc-uk.org

PEFC (Programme for Endorsement of Forest Certification)
The PEFC (Programme for the Endorsement of Forest Certification) gives assurance that wood-based products (timber, furniture, packaging or paper) bearing the two trees logo come from well-managed forests.
It assures that forests are managed in line with challenging environmental, social and economic needs, balancing People, Planet and Profit.
Find out more about how Aldi is tackling deforestation here.
Products: Wipes, nappies, feminine hygiene.
Learn more: www.pefc.co.uk

RSPO (Roundtable on Sustainable Palm Oil)
100% of palm oil in Aldi products is RSPO certified, although only some of our products carry this logo. The RSPO has developed a set of environmental and social criteria which companies must comply with in order to produce Certified Sustainable Palm Oil. These criteria minimise the negative impact of palm oil cultivation on the environment and communities in palm oil-producing regions. Aldi is committed to the investment in sustainable palm oil production.
Find out more about Aldi's certified palm oil sourcing here.
Products: All food and non-food products containing palm oil. eg. Bakery products, cleaning detergent
Learn more: www.rspo.org