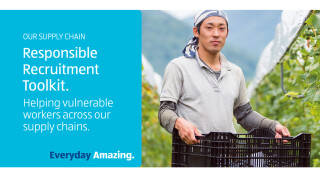 Driving high standards for supply chain recruitment
Aldi are proud to be a founding sponsor of the new Responsible Recruitment Toolkit. It's an innovative toolkit for suppliers and those who are recruiting workers in our supply chains. With it, they will be able to self-assess their recruitment practices, train their employees on how best to embed responsible recruitment practices, and report externally on their progress.
Recruitment and the sourcing of labour have been identified as amongst the greatest risks to workers in supply chains. Thanks to the Toolkit, Aldi's suppliers and their labour providers will now have access to a one-stop solution across all areas of responsible recruitment. They will use it to embed ethical practices, engage jobseekers and strengthen their businesses. The implementation of the Toolkit in sectors such as produce, will help improve responsible recruitment practices across supply chains and help eliminate modern slavery.

Working together to protect vulnerable workers
The best way to drive the highest standards and protect vulnerable workers is for the industry to join forces and work together. We are therefore collaborating with other UK retailers to support this important initiative. This collaboration ensures our suppliers and their labour providers are equipped with practical tools to understand and tackle this complex issue, and sends a strong message across the industry that responsible recruitment plays a critical role in eradicating exploitation.