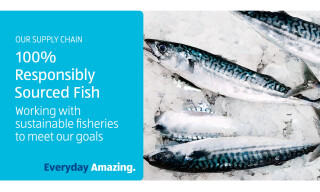 100% responsible fishing since 2018, officially
We are committed to sourcing our fish and seafood products responsibly. So much so, that by the end of 2018 we achieved our goal of being 100% responsibly sourced for our fresh, frozen and canned fish and seafood product categories in the UK.
We work in collaboration with the Sustainable Fisheries Partnership and use third party certification bodies such as Marine Stewardship Council (MSC), Aquaculture Marine Stewardship Council (ASC), Global GAP and Global Aquaculture Alliance BAP (2 star), not to mention the dedication of our suppliers and team here at Aldi to help us to achieve this amazing goal.
What's next for our fish?
We are continuing to work on increasing our MSC certified products, and striving to responsibly source all products containing fish and seafood, be it a sandwich filler or ready meal – we are ready for it!
Let's all help in keeping our fish plentiful and healthy in the oceans and buy responsibly.
Meet the Supplier
Click below for more about how we support our suppliers to source fish responsibly.