Rich almonds combine with tangy and sweet rhubarb to make this delightful cake.
Rhubarb & Almond Cake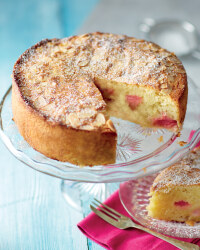 Recipe Information
Ingredients
250g trimmed fresh Rhubarb
150g The Pantry Self Raising Flour
50g The Pantry Ground Almonds
200g The Pantry Caster Sugar
4 Medium Eggs
200g Perfect for Baking Spread
15g The Pantry Flaked Almonds
½ tsp Vanilla Extract
20-22cm spring form cake tin
Non-stick baking paper
Method
Pre-heat the oven to 180°C/350°F/Gas Mark 4.
Line the base of the tin with non-stick paper and lightly grease the sides.
Wash and chop the rhubarb into 1 inch chunks.
Break the eggs into a food processor and add the flour, ground almonds, sugar, baking spread and vanilla extract and mix until you have a smooth batter.
Transfer to a bowl and gently stir in the chopped rhubarb.
Put the mixture into the prepared cake tin, level the top then sprinkle over the flaked almonds.
Bake in the centre of the oven for 35-40 minutes until risen and golden brown.
Allow to cool in the tin for 10 minutes before removing.
Serve warm with cream or cold with coffee or tea.