Roasted Radishes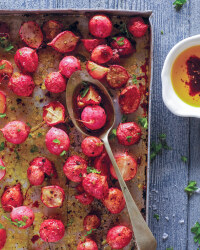 Recipe Information
Ingredients
Radishes
60ml Specially Selected Olive Oil
20ml Balsamic Vinegar
3 cloves Garlic
Sea Salt and Black Pepper
5g fresh Parsley
Method
Pre-heat the oven to 200°C/400°F/Gas Mark 6.
Wash and dry the radishes.
If very large, cut in half.
Finely chop the parsley.
Peel and mince the garlic.
Put the radish and garlic a bowl and add the oil and vinegar.
Season with some black pepper and salt and toss the radish in the mix.
Transfer to a baking dish and roast in the oven for 25 minutes.
Serve sprinkled with the chopped parsley – great served sprinkled with grated Parmigiano cheese.