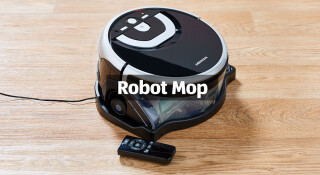 The amazing Robot Mop cleans your floors so you don't have to!
Want squeaky clean, shining floors that would impress Mrs Hinch and her army of followers without lifting a finger?
Well, now you can!
Say hello to - Robot Mop! (Feel free to name yours to make them feel like part of the family!)
Treating yourself to a Robot Mop allows you to spend time on other activities. This stylish gadget is sure to become your new best futuristic friend, doing all of the hard work so you don't need to!
Automatic Robot Map
This rechargeable Robot Mop is the future of floor cleaning. Doing all the hard work, it frees you to spend your time your way. Saving hours of scrubbing, its anti-bump case uses sensors to guide it, and it has an easy-to-fill detachable water tank.
Say Hello To Robot Mop
Wave goodbye to the floor cleaning list. Wave goodbye to money spent on cleaning products.
Say hello to your floor mopping robot. Say hello to more free time for you to spend with your family!
With automatic cleaning settings, Robot Mop will beaver away for up to 80 minutes. A handy detachable water tank makes Robot Mop easy to fill and it's anti-bump case and sensors means Robot Mop can be trusted around your furniture. Amazing!
Li-Ion battery

Operating time up to 70-80 minutes

Charging time about 5 hours
Detachable water tank

Weight 3.6 kg

Dimensions approx. 28.5 x 11.8 cm
Show us your Robot Mop in action
Tag and share your photos with us on our social media channels to show just how helpful your Robot Mop is.
Explore more Specialbuys
Shop our full range of lifestyle Specialbuys for more amazing household essentials, electrical and travel accessories.