Milk, white and dark chocolate rocky road with marshmallows, cranberries and nuts.
Rocky Road with Cranberry & Mixed Nuts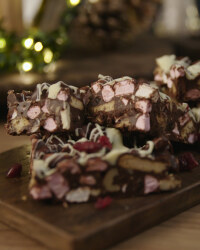 Recipe Information
Ingredients
130g Unsalted butter
100g Milk Chocolate
200g Dark chocolate
50g white chocolate (optional)
80g Mixed nuts
4 tbsp Honey or golden syrup
120g digestive style biscuit
80g Mini marshmallows or large ones cut into small chunks around 2cm x 1cm
80g Dried fruit and nut mix
Method
Melt the honey, butter, milk and dark chocolate in a bowl over hot water.
Crumble up the biscuits, roughly chop the nuts and add these to the bowl, then stir in the dried fruit, marshmallows and pour into a grease proofed 9-10 " baking tin and smooth with the back of a wet spoon or knife.
Optional: Melt the white chocolate and drizzle this all over the top.
Allow to cool for around 2 hours or an hour in the fridge.