A classic Italian Parma Ham dish
Rosa di Parma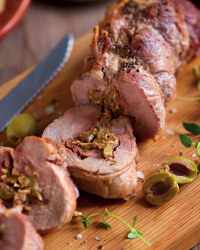 Recipe Information
Ingredients
2 x Specially Selected Pork fillets
4 x slices Specially Selected Parma ham
70g Specially Selected Parmigiano Reggiano cheese
10ml Cucina balsamic vinegar
40ml Specially Selected Sicilian olive oil
70g drained Solesta green olives
1 x 500g pack Cucina Reginette
Italian spice
Black pepper
Extra olive oil
Thin kitchen string
Method
Preheat the oven to 200°C/400°F/Gas Mark 6.
Coarsely grate the parmesan cheese.
Chop the green olives finely.
Mix the cheese and olives together in a small bowl along with the balsamic vinegar, season with some ground Italian spice.
Cut a slit in the pork fillets lengthways- to form a pocket, put your fingers inside and push outwards to make the cavity bigger.
Lay one piece of ham into each of the fillets and push in, divide the cheese mixture between the two and put in the fillets, on top of the ham - now cover the cheese mixture with another slice of ham, push in the sides.
Now tie up the fillets with string at 4cm intervals.
Put the fillets onto a baking sheet, cut side up, drizzle with the olive oil, season with some black pepper.
Roast for 40 minutes.