Topped with sour cream and button mushrooms.
Rosti Angus Beef Burgers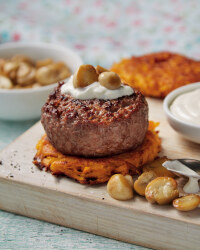 Recipe Information
Ingredients
2 x 340g packs Specially Selected British Aberdeen Angus Burgers
300g peeled Sweet Potatoes
300g peeled Butternut Squash
1 x tsp each Stonemill Paprika and Garlic Granules
2 x Medium Free Range Eggs
50g The Pantry Self-Raising Flour
100g Button Mushrooms
120g Snackrite Sour Cream and Chive Dip
Sea Salt and Black Pepper
Solesta Sunflower Oil
Method
To create the röstis, grate the sweet potatoes and butternut squash, mix together in a bowl and set aside for 10 minutes.
Squeeze out any water that has accumulated.
Beat the eggs, then add the garlic granules and paprika. Season with salt and pepper.
Sprinkle the flour over the grated vegetables, then stir in the egg mixture. Mix well.
Wipe the mushrooms and slice in half.
Divide the rösti mixture into 8 portions, shape into patties and shallow fry in some oil on both sides until golden.
Keep warm in the oven while you cook the remaining portions.
Grill or BBQ the burgers.
Sauté the mushrooms in the frying pan after you have cooked the rösti cakes.
Serve the burgers on or between two rösti cakes topped with sautéed mushrooms and a dollop of sour cream and chive dip.