Mini lemon sponge cakes soaked in rum syrup and topped with Chantilly cream and lime zest.
Rum Babas with Lime Chantilly by Judy Joo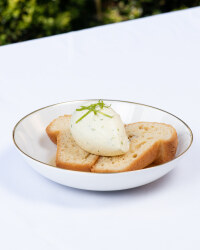 Recipe Information
Ingredients
Rum Syrup
480ml Water
150ml Honey
1 Lime, skin removed with a peeler and juiced
90ml Dark Rum
Lime Chantilly Cream:
2 tbsp Caster Sugar
1 Lime, zested
240ml Double Cream
Baba Dough:
175g Strong Flour
3.5g ( ½ packet) Dry Yeast
60ml Whole Milk, warmed slightly
2 Large Eggs
1.5g Salt
1 Lemon, zested
85g Unsalted Butter, cubed and softened, plus more for greasing moulds
To Assemble:
120 - 150ml Rum for flambé
Method
Tip water, honey and lime peel into a medium saucepan. Place over high, indirect heat on your hob.
Bring to boil and simmer for 10 minutes. Remove from heat then strain lime juice through a sieve to remove any pips and seeds and add to the honey mixture. Tip in rum. Allow the syrup to cool to room temperature and set aside.
Lime Chantilly Cream
In a large bowl, rub lime zest into the sugar with fingertips to release aroma and oil.
Add the cream and whisk to soft peaks. Cover and place in the fridge until needed.
Baba Dough
Heat ceramic grill/smoker to 200C.
In a large bowl, whisk together 60g of the flour, the yeast, and milk until smooth. Cover with cling film and put in a warm place to allow to rise, until the dough starts to fall back in on itself, about 30-45 minutes.
Once the batter is ready, place into a stand mixer fitted with a dough hook. Add the eggs, salt, remaining flour and lemon zest. When the dough starts to come together and become smooth, add butter. Then beat for 2 more minutes until batter is smooth. Grease mould with additional softened butter and place on a tray.
Once the dough is ready, scoop into a piping bag, then pipe 50 - 60g into each mould. Cover the tray loosely with cling film and put in a warm place until doubled in size, about 20-30 minutes.
Once risen, remove the cling film and place into the grill smoker. Cook for 20 minutes or until golden on top. Remove tray from the smoker and gently remove babas from their moulds, then place back on the tray. Place the tray back into the smoker and bake the babas for another 7-8 minutes until golden on the sides. Remove from the smoker and allow to cool on a rack.
To Assemble
Soak babas in syrup for 2 hours before serving. Then, place a baba into a skillet over the grill (indirect medium-low heat) and spoon additional rum over the baba. Allow the grill flame to light (or use a match) to set the rum on fire and flambé the babas, spooning over more rum as you like.
Place each baba onto a plate and cut in half lengthways and spoon over a little more syrup. Top with Chantilly cream, and more fresh lime zest. Serve immediately.