Rum Selection Pack
Product Ref: 087253249387800
Product Information
By law we cannot sell this product to anyone under 18
Captain Morgan Original Spiced Gold Rum 50ml Alc 40%
Produced with a blend of spices and natural flavours which are infused with Carribean rum and then aged in charred white oak barrels, creates a rich spicy golden coloured rum.
Havana Club Añejo Especial 5cl Alc 40%
The natural ageing process in young oak barrels in Cuba for a number of years gives this rum its warm amber colour and smooth taste.
Ron Abuelo AñejoRum 50ml Alc 40%
A blend of rum gently aged in ex American whisky barrels, its distinguished flavour is mellow, rich and smooth. With a light nutty and woody aroma, this rum opens up to a very balanced taste of caramel and vanilla.
Captain Morgan The Original Rum 50ml Alc 40%
A rich, spiced rum with hints of molasses and pepper on the nose. This dark rum is produced using a mixture of Jamaican, Guyanam amd Bajan rums.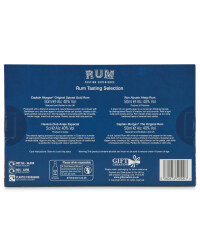 ABV:

40%

Bottle Size:

4 x 5cl

Type:

Rum