Melted chocolate and marshmallow s'mores dip with homemade biscuits.
S'mores Dip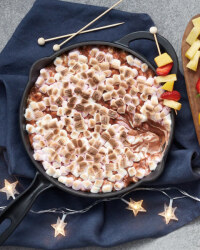 Recipe Information
Ingredients
Ingredients for Biscuits
165g Plain Flour
50g Icing Sugar
100g Salted Butter, at room temperature
1 x medium Egg Yolk
1 tsp Vanilla Essence
Ingredients for S'mores Dip
200g Milk Chocolate
2 x 180g packs Pink and White Mini Marshmallows
70ml Semi Skimmed Milk
To serve
1 x 400g pack fresh Pineapple Chunks
1 x 260g pack fresh Mango Chunks
1 x 400g punnet of fresh Strawberries
Method
Pre-heat the oven to 170°C/Gas Mark 3.
Put the flour and icing sugar into a bowl and whisk together.
Chop the butter into small pieces and rub in with your finger tips.
Add the egg yolk and the essence and mix to a dough.
Roll out to the thickness of a pound coin on a lightly floured board.
Cut out some biscuits using your favourite cutter.
Put on a lightly greased baking sheet and bake for 10 minutes, until just slightly browned.
Allow to cool on the sheet.
Break up the chocolate and put into a medium sized frying pan, along with the milk and 1 pack of the marshmallows.
Gently heat until the chocolate and marshmallows have melted.
Transfer to a heatproof dish.
Sprinkle over the other bag of marshmallows. Grill for 5 to 7 minutes until the marshmallows are just burnt.
Serve alongside the biscuits and fruit.