Favourite brunch recipe with salmon, egg and parsley on a rye cracker.
Salmon, Egg and Parsley on Rye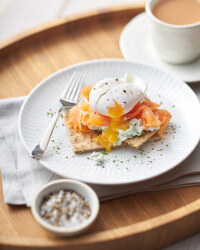 Recipe Information
Ingredients
2 x 100g packs Specially Selected Sliced Oak Smoked Salmon
4 large Eggs
8 Rye Crispbreads
100g Soft Cheese
3g fresh Parsley
20ml Lemon Juice
Sea Salt and Black Pepper
Method
Chop up the parsley, mix it with the soft cheese and spread it on 4 of the crispbreads.
Fold a piece of salmon on top.
Put a plain crispbread on each plate and pop the salmon crispbread on top.
Boil a saucepan of water with a little lemon juice.
Crack and then drop in the eggs and boil gently for a couple of minutes until they're just set.
Lift out the poached eggs and put them on the salmon, then sprinkle with salt and pepper.