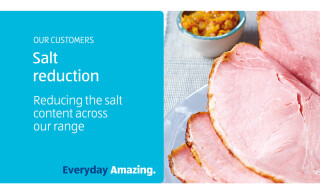 Lowering the salt whilst maintaining the product quality
The population are currently consuming more salt than the recommended 6g per day. Too much salt in the diet has links to some scary things, like heart disease and high blood pressure. For this reason we have been gradually reducing the level of salt in our products for a number of years, to benefit the health of our customers, whilst ensuring our products are of the highest quality and still taste great.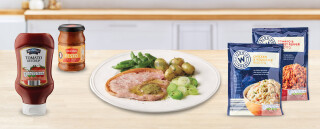 Salt Reduction Targets
To show our commitment, we signed up to Public Health England's Salt Reduction Targets and, currently, 93% of our products either meet or fall below the maximum targets set. But there's always more to do, so we'll continue to reformulate our products to reduce salt.
Here are some highlights of our hard work:
• Removed over 46 tonnes of salt from our tomato ketchup, reducing the salt in the recipe by 28%
• Reduced the amount of salt in our red pesto recipe by 60%
• Removed 79 tonnes of salt from our range of gammon joints
• Removed over a tonne of salt from our three risotto pouches, with an average of 40% less salt per variant
• Reformulated our stir fry sauces, removing over 3.25 tonnes of salt