Samuel Joe's Bourbon Whiskey
Product Ref: 063794243940401
Product Information
By law we cannot sell this product to anyone under 18
Enjoy the flavour of this typical barrel-matured straight bourbon, with subtle vanilla notes. A sweet and smooth bourbon distilled in Kentucky for a perfectly mellow taste.
Please note this product is the same as Clarke's the packaging has been rebranded.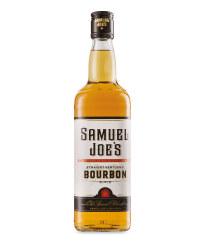 ABV:

40%

Bottle Size:

70cl

Origin:

USA

Type:

Whisky
Serving suggestion
Straight, on the rocks, or with a mixer
Wine/Spirits Disclaimer
Prices and "Alcohol by Volume" or "ABV" measurements may be different in stores in Scotland due to minimum unit pricing laws. See in stores for details.