Described by some as the best pudding to come out of Scotland.
Sandra Jamieson's Cranachan Sundae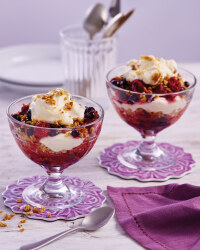 Recipe Information
Ingredients
500g Frozen Summer Berries
1 x Orange
100ml Scottish Double Cream
140ml Greek Yogurt
50g Caster Sugar
25g Scottish Unsalted Butter
40ml Scottish Blossom Honey
1 x sprig Fresh Rosemary
100g Scottish Porridge Oats
15ml Whisky
2 x Shortbread Fingers
Method
Grate and juice the orange. Put the juice and rind into a small saucepan, along with the frozen berries, sprig of rosemary and honey, and slowly bring to the boil.
Remove the rosemary and, with a slotted spoon, remove the berries and put into a heatproof bowl. Keep cooking the juices until they're reduced to a syrup. Remove from the heat and pour over the berries.
Melt the butter in a pan and fry the oats, along with the remaining honey until browned and gooey.
Next, whip the cream until holding, then add the whisky and fold in the yogurt. Crumble the shortbread fingers.
Finally, layer the sundaes in 4 tall glasses, starting with some fruit and glaze, cream, oats and crumbs.
Repeat until you've used all the ingredients.