A go-to vegetarian Savoury Summer Tart with feta, spinach, peppers and onion.
Savoury Summer Tart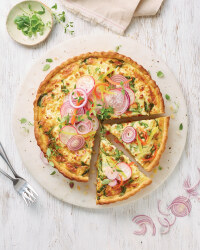 Recipe Information
Ingredients
375g Ready Rolled Shortcrust Pastry
1 Small Red Onion, grated
50g Grilled Peppers
50g Baby Spinach
100g Semi Skimmed Milk
130g Greek Style Natural Yogurt
4 Large Free Range Eggs
Salt
Pepper
50g Feta Cheese
35 x 12cm Flan Baking Tin
Method
Pre-heat oven to 175°C/350°F/Gas Mark 4.
Line the baking tin with pastry and chill for 30 minutes.
In the meantime, whisk the milk, yogurt and eggs together in a measuring jug, with a pinch of salt and pepper.
Spread the grated onion onto the pastry base and add the peppers.
Tear the spinach and add to the onion and peppers, then pour over the egg mixture and crumble over the cheese.
Bake for 30-35 minutes, until set and the edges are golden. Serve immediately or chill until ready to serve.