Try this all-time favourite baked to golden perfection with an extra-tasty cheese topping!
Shepherd's Pie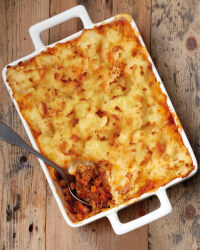 Recipe Information
Ingredients
500g Minced Lamb
1 large Onion
1 stick Celery
1 large Carrot
20ml Worcestershire Sauce
1 tbsp Tomato Purée
500ml Water
1 tsp Paprika
1 flat tsp Dried Thyme
30ml Sunflower Oil
1.5kg Maris Piper Potatoes
125g Salted Butter
200ml Milk
30g grated Cheddar Cheese
Sea Salt and White Pepper
Method
Pre-heat the oven to 200°C/Gas Mark 6.
Peel and finely chop the onion. Wipe the celery and finely chop.
In a large saucepan, sauté the lamb mince, along with the onion and celery, in the sunflower oil until browned. Add the water and the Worcestershire sauce, paprika, tomato purée and thyme, then season with some salt and pepper and bring to the boil. Peel and finely chop the carrot. Add to the pan, cover and simmer for 20 minutes.
Meanwhile, peel the potatoes and boil in some salted water until tender. Drain well and then add the butter and milk and mash together.
Put the lamb mince in the bottom of an ovenproof dish, top with the mash, sprinkle over the Cheddar cheese and bake in the oven for 20 minutes.