This classic steak recipe combines roast potatoes, tangy tomatoes and a healthy medley of green vegetables.
Sibton Steak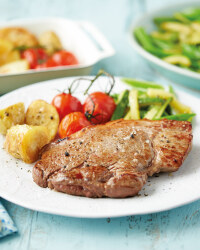 Recipe Information
Ingredients
4 British Rump Steaks
600g Salad Potatoes
1 x 250g pack Cocktail Vine Tomatoes
80ml Solesta Sunflower Oil
1 x 160g pack Sugarsnaps
200g Courgettes
50ml Solesta Olive Oil
Sea Salt and Black Pepper
Method
Pre-heat the oven to 200C/400F/Gas Mark 6.
If the potatoes are large, cut in half.
Put them in a pan, cover with cold water, then season with some sea salt.
Bring to the boil, cover and simmer for 8 minutes, then drain.
Put the potatoes in a roasting dish, pour over the sunflower oil and roast for 25 minutes.
Meanwhile, prepare the vegetables.
Thinly slice the sugarsnaps and the courgettes into strips.
Barbecue or grill the steaks to your liking – about 4 minutes each side for medium.
Put the tomatoes in with the potatoes for the last 5 minutes of cooking.
Sauté the courgettes and sugarsnaps in the olive oil in a frying pan or wok for 5 minutes then drain.
Drain the potatoes and tomatoes – grind over some black pepper.
Serve with the steaks and sautéed vegetables.