These soft and delicious rolls are the ideal complement for a hearty soup.
Simple Soup Rolls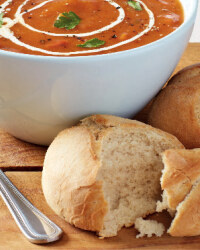 Recipe Information
Ingredients
250g The Pantry Strong White Flour
7g sachet The Pantry Yeast 20g
Spread The Love
1 tsp Salt
1 tsp The Pantry Caster Sugar
150ml Warm Water
Method
Put the flour, salt and caster sugar into a large bowl. Rub the spread into the flour mix and sprinkle in the dried yeast.
Add warm water and mix into the flour using your fingers.
When the water is mixed in, transfer the dough to a floured surface, knead it pushing the dough hard to get rid of any lumps. Keep pulling it together until the dough is smooth and stretchy – it'll take about 5 minutes.
Roll the dough into a ball then into a sausage shape, cut it into 6 pieces then roll these into balls.
Place onto a greased baking tray, allowing room for them to spread. Cover loosely with some cling film and leave to rise in a warm place for 30 minutes.
Pre-heat the oven to 230°C/450°F/Gas Mark 8.
Bake the rolls for 10-12 minutes until golden before cooling on a wire rack.