Vegetarian layer cake made with courgette, nuts and lemon. Topped with avocado frosting.
Simply Scrumptious Courgette Cake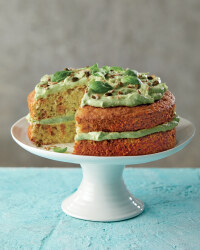 Recipe Information
Ingredients
Cake
350g Courgettes (approx. 2)
100g Dried Apricots
4 x Medium Eggs
250g Self Raising Flour
50g Ground Almonds
200g Caster Sugar
1 tsp Baking Powder
1 tsp Vanilla Essence
Grated rind of 1 x Lemon
125ml Sunflower Oil
Frosting
2 x ripe Medium Avocados
40g Icing Sugar
200g Reduced Fat Soft Cheese
1 tsp Vanilla Essence
20ml Lemon Juice
80g Unsalted Butter (at room temperature)
25g Sunshine Seed Mix
5g fresh Basil Leaves
Method
To make the cakes
Line 2 x 20cm loose-bottom cake tins with non-stick paper. Pre-heat the oven to 180°C/Gas Mark 4.
Grate the courgettes and put into a clean tea towel – squeeze out as much water as possible and then put into a large mixing bowl. Finely chop the dried apricots and add to the courgettes. Add the flour, baking powder, ground almonds, grated lemon rind and caster sugar and gently mix together. Crack the eggs into a new bowl and whisk with the vanilla essence. Then add the oil and mix together. Add this mix to the courgette mix and beat well to combine.
Divide the mixture between the 2 tins and bake in the oven for 25 minutes until risen, golden and firm to the touch. Allow to cool in the tins.
To make the frosting
Halve the avocados and chop roughly. Put into a food processor along with the icing sugar, lemon juice, soft cheese and vanilla essence. Chop the butter finely and add to the avocado mix. Process until you have a smooth frosting. Put in the fridge for 30 minutes to set slightly.
Dry toast the seeds in a frying pan until golden. Assemble the cake by sandwiching the 2 halves with half the frosting. Swirl the rest on top. Sprinkle over the seeds and the torn basil leaves and serve.
Voila! A lovely light, moist lemony sponge lathered with a rather tasty avocado butter cream. Perfect for the Easter weekend. And packed full of vegetable goodness!