This simple and healthy pasta bake is a perfect way to sign off after a long school day.
Smoked Salmon and Broccoli Pasta Bake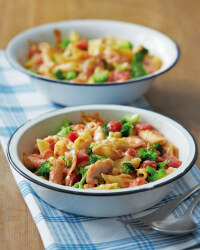 Recipe Information
Ingredients
220g Everyday Essentials Penne Pasta
140g The Fishmonger Smoked Salmon
150g fresh Broccoli
400g tin Sweet Harvest Chopped Tomatoes with Herbs
100ml boiling Water
1 Vegetable Stock Cube
100ml Reduced Fat Crème Fraiche
50g Lighter Mature Grated Cheddar
Sea Salt and Black Pepper
Method
Preheat the oven to 180°C/350°F/gas 4.
Cook the pasta in some salted boiling water for 10 mins and then drain.
Meanwhile chop the broccoli into small pieces.
Slice the smoked salmon into thin strips.
Add the stock cube to the boiling water to dissolve.
Put this stock, the broccoli and the tinned tomatoes in a small pan and bring to the boil, add the crème fraiche and the smoked salmon, season with some black pepper.
Mix this sauce with the pasta and put into an ovenproof dish, sprinkle over the grated cheese and bake for 15 minutes.