This tasty dish is the perfect combination of sweet and savoury.
Solesta Baked Apples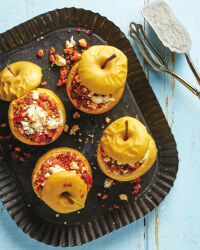 Recipe Information
Ingredients
4 Green Apples
1 small Red Onion
1 slice Malted Bloomer
80g Specially Selected Spicy Spanish Chorizo
2 cloves Garlic, peeled and minced
25ml Specially Selected Olive Oil
50g Feta Cheese
Grated rind of ½ Orange
½ tsp Stonemill Sage
Black Pepper
Method
Pre-heat the oven to 200°C/400°F/Gas Mark 6.
Peel and finely dice the onion.
Sauté the onion and the garlic in the olive oil for 2-3 minutes.
Finely chop the chorizo.
Make some breadcrumbs with the bread.
Mix all the above ingredients together in a bowl.
Add the sage and the grated orange rind, then season with some black pepper.
Cut the tops off the apples and, with a spoon, scoop out the core and seeds without breaking through the base and sides. Add the scooped out apple to the mixture.
Divide the mixture between the apples.
Crumble the feta and sprinkle over the tops of the apples, then replace the tops.
Put the apples in a baking dish.
Pour a little water around the apples – just to cover the base of the baking dish.
Bake in the oven for 30-35 minutes until the apples are tender.