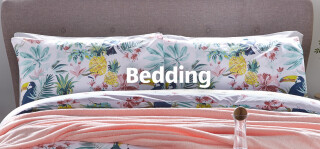 Give your bedroom a stylish new look with our Bedding Specialbuys
Getting a good night's sleep starts by making sure your bedroom's a place you want to be – and whether it's making sure you've got the right duvet tog rating to feel comfortable or treating yourself to some fresh new bedding, we're here to help. Cosy up to our latest Bedding Specialbuys and you'll find everything you need, including tips on how to sleep better.
Bedding
Range
We've a whole range of stylish duvet sets, sheets and throws to give your bedroom a fashionable new look. And make sure you don't miss our relaxing spa candles, to add that little touch of luxury at bedtime.
Struggling to sleep well? Here are some simple tips to help
Get your day right
Fresh air and exercise will help you sleep better, as will eating more fruit and veg and drinking more water. No big meals less than 4 hours before bed either, or your body will be working too hard to sleep.
Wind down and switch off
Relax for 45 minutes before bed – maybe read, do yoga, listen to music or have a bath. And leave phones, tablets and TVs out of the bedroom – it's time for sleep, not emails or Facebook.
Still can't sleep?
Try distracting your mind with something trivial, like imagining how you'd kit out your own private jet. If you're awake for 20 minutes or more, get up and listen to the radio, read or sit quietly with a herbal tea until you feel sleepy again.
Your guide to Bedding
Never miss out on a specialbuy
Every Sunday and Thursday, we announce our latest range of exclusive offers, which are available in store or online. Make sure you're one of the first to know about our next batch of Bedding Specialbuys, because once they're gone, they're gone. Sign up now.