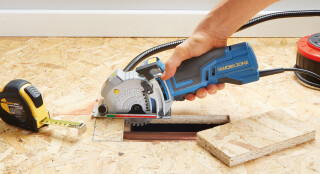 DIY Specialbuys for every job
To get the best results from your DIY, whether it's everyday work or a big project, Aldi have the quality tools, both cordless and mains powered, you need to get the job done. From power tools and accessories to washers, drills, saws and workshop essentials, you'll find amazing value across our range.
Belt & Disc Sander
Every workshop needs a powerful sander like this. It features all the stuff you need, like a fully adjustable sanding belt and a Velcro fastening system for discs. Secure it safely to your worktop with the cast iron base and you're ready for any job.
Tool Cabinet
Our tough tool cabinet is exactly what your workshop needs. Its powder-coated cold-rolled steel finish comes in a choice of 2 colours and is complete with 6 fully extendable drawers, 4 easy-move castors and a carry capacity of approx. 140g.
Cordless Drill
Every tool kit needs the perfect drill. This Ferrex 16v cordless drill includes an integrated LED light, speed control and quick stop function for safety. The 60-minute charging time also means you don't have to wait around to get the job done.
Dolly Trolley
Handy dolly trolleys make easy work of big jobs. With 4 swivel castors, an anti-slip mat and a max carry capacity of approx. 250g, they're great for manoeuvring your tools around a site. Choose from rectangular or circular designs.
Do more DIY for less
With a range full of specially designed tools and equipment available at amazing value, there's no excuse for putting off that next project.
Foldable Bench
Bring along a lightweight, steel-framed work bench to your next job and you'll always have a perfect place to work as you move around the site. Comes with vice jaw, ruler and protractor.
Circular Saw
Power through the big jobs with our heavy-duty circular saw. It features a 165mm mounted blade and an accurate laser cutting line.
Cordless Fan
This Ferrex cordless fan can be used indoors and outdoors and can be free standing or hung up high for perfect positioning.
105-piece Tool Kit
A one-stop bag for every tool you need. This handy set includes a 39-piece socket set, a machinist hammer, wrench, knife, pliers, and many more essentials to get the big and small jobs done.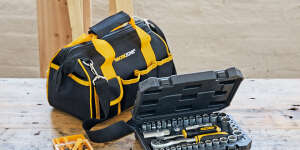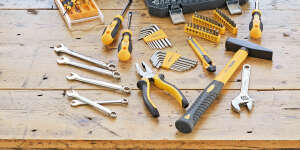 Show off your handiwork
Proud of your DIY masterpiece? Tag and share your projects with us on our social media channels and let the world know how brilliant you are.
Don't miss our other ranges…