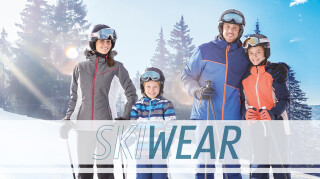 ALDI SKIWEAR EVENT
Our Skiwear Specialbuys are built for action, providing the maximum protection and performance you want at amazing ALDI prices. From men's and ladies' ski jackets and thermals, to ski boots and socks, our fantastic range of coordinated ski clothing means you're ready to hit the slopes. So make sure you enjoy your winter sports in warmth, style and comfort by choosing our superb skiwear made with durable materials and practical waterproof and windproof fabrics.
For high-performance, specialist winter ski clothes at ALDI's amazing prices, check out our new Skiwear Event. Designed with cutting-edge features, including premium-quality breathable materials, our Skiwear Specialbuys are ready for action, whether you're into skiing or snowboarding on your next ski holiday!
Winter sports without the expense! At Aldi, taking your family skiing doesn't take a small fortune – just look at how our amazing value skiwear bundles stack up!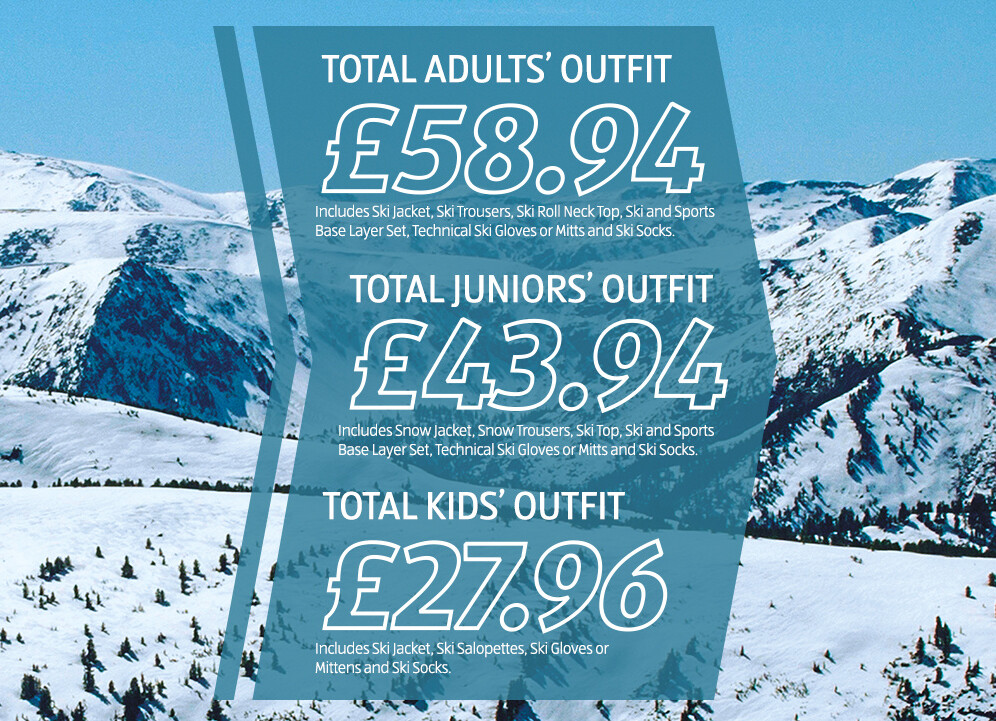 Ladies' Ski Jacket
For style on the slopes you can't beat Aldi's amazing value! Our Ladies' Ski Jackets have all the features you need to stay comfortably warm and dry during a downhill run, as well as looking the business when you're taking a break.
SOLD OUT ONLINE
Men's Skiwear
With useful features like underarm ventilation zips and a ski pass pocket on the left sleeve, our Men's Ski Jackets and matching padded trousers will keep you dry, warm and comfortable while you're perfecting your technique.
SOLD OUT ONLINE
Kids' Skiwear
Waterproof, windproof and breathable, our colourful Kids' Jackets and Trousers have the same quality, warmth and protection as our adult skiwear ranges – making sure all the family enjoys a fun time on the ski slopes!
SOLD OUT ONLINE
Ladies' Trousers
Perfect on or off the snow, these fabulous fleece-lined Soft Shell Trousers will keep you cosy and comfortable. The waterproof, windproof and breathable fabric makes them a joy to wear whatever the weather – and better still, they're fantastic value!
SOLD OUT ONLINE
Ski Helmet
Ski helmets are a must to make sure everyone stays safe on the slopes. And with their tough ABS shell and comfortable inner padding for a perfect fit, ours offer warmth and protection for the whole family.
SOLD OUT ONLINE
High spec, low price
Our skiwear doesn't compromise on quality – it's specially designed to keep you warm, dry and moving freely, with a whole host of high spec features for optimum performance.
Breathability of 3.000 gr/m2/24hr, allowing moisture to flow

Fabric is waterproof up to 3.000mm, keeping you drier for longer

All our skiwear garments have a YKK main zip as a minimum

Mesh-lined underarm to enable airflow without chill
Outer shell designed to reduce penetration of cold air

Keeps your pass secure and allows for easy scanning

Antislip tape stops skiwear riding up, keeping snow out

Mesh-zipped pocket for storage and access for headphones

Ski Pro - peak performance for the serious skier
Look out for our Ski Pro event launching January 2019.