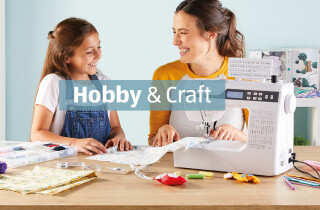 Fun crafting for the whole family
From an amazing value digital sewing machine to kits for sewing, knitting, weaving and crocheting, we have the quality supplies that crafters need. We also have a great selection of quality knitting yarns and kits just for kids. We even have crafts for Christmas!
Hobby Trolley
Take your craft supplies anywhere with this attractive, generously-sized trolley bag with padded walls. Its extendable handle makes it easy to transport and the zipped pockets ensure secure storage. Approx. 35 x 43 x 23cm.
Fluffimals
A fun way for kids to create a new fluffy friend. Simply attach the cuddly bear to the Fluffy Factory and turn the handles to stuff. The kit includes Factory, Bear, Glowing Heart, Stuffing, Birth Certificate and Hairbrush. Suitable for ages 3+ years.
Tie-Dye Machine
Now kids can create their own mess-free, tie-dye clothes! The kit includes Magic Mixing Orb, 3 Dye Bottles, Plastic Gloves, Elastic Bands and Instructions. The leak-free Orb can be cleaned by rinsing with cold water. Suitable for ages 6+ years.
Crafting Book & Kit
2 fun kits with everything needed to create a host of cute animals. Choose from a Sewing Kit with cut-out shapes, needles and threads to make 7 felt animals or a Knitting Kit with knitting needles and yarn to create 3 adorable knitted animals.
Digital Sewing Machine
This LCD display sewing machine with foot controller has an automatic needle threader and thread cutter. Its adjustable stitch width includes 100 normal, 100 alphabet and 69 double needle stitches and 8 one-step buttonholes.