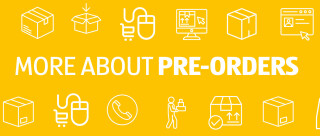 All you need to know about Pre-Orders
So, you're tired of not getting to your local store early enough to get your hands on our latest Specialbuy products? You're in luck, our online pre-order service allows you to order and pay for items early, which we will send to you when they come into stock.
STEP 1

Pre-order and pay today to reserve your products
STEP 2

Relax...Your order will be reserved for you until the official on sale date
STEP 3

Your Pre-order will be sent to you on the estimated dispatch date...If we can send this to you early we will!
You've got more questions?
No problem. Take a look through our pre-order FAQ's