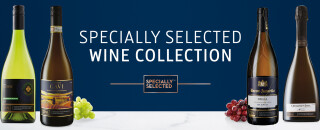 Specially Selected wines, chosen for you.
If you're a wine lover looking for something new to excite your palate, our premium Specially Selected wine collection is just for you. By focussing our selection on the most distinctive grapes from around the world, we've hand-picked the finest bottles and nicest niche flavours. Shop them online and in store today.
Select your wine
Whether you like red, white, rosé or sparkling, you're going to find a luxury bottle you like in our Specially Selected collection. Take a closer look at every choice now and get your order in.