Wholemeal bread with cinnamon, orange zest and chopped walnuts – just slice and butter!
Spiced Walnut Bread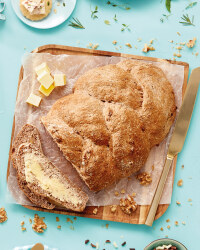 Recipe Information
Ingredients
500g Wholemeal Bread Mix
340ml Water
1 tbsp Cinnamon
Zest of 1 Orange
50g Walnuts, chopped
Method
Mix the wholemeal bread mix in accordance with the instructions on the packet.
Leave to rest for 5 minutes.
Add the orange zest and chopped walnuts before kneading for 2 minutes.
Divide the dough into 3 equal pieces.
Roll each piece into an oblong, approx. 25cm long and plait them together.
Cover with clingfilm or a damp tea towel and leave to rise for 30-40 minutes.
Pre-heat the oven to 230°C / Fan 210°C / Gas Mark 8.
Bake the loaf in the oven for 30 minutes.
Leave to cool on a wire rack before serving sliced, with lashings of butter.