Tasty cucumber salad with crumbled feta and pomegranate, served with chilli olive oil.
Spicy Cucumber Salad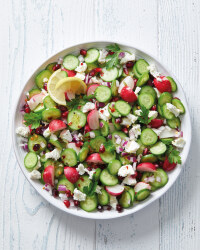 Recipe Information
Ingredients
400g Baby Cucumbers
150g Radishes
½ Red Onion
50g Pomegranate Seeds
100g Feta
2 tbsp. Extra Virgin Olive Oil
1 tbsp. Lemon Juice
1 tsp Dried Chilli Flakes
½ tsp. Salt
½ tsp. Pepper
To Serve:
Flat Leaf Parsley
Lemon Wedges
Method
1. Begin by washing the baby cucumbers cutting them into 1cm chunks.
2. Quarter the radishes and cut the onion into small chunks.
3. Whisk together the olive oil, chilli flakes, lemon juice and salt and pepper.
4. Crumble the feta then add to the cucumber, radishes and onion along with the dressing and pomegranate seeds, mix to combine.
5. Serve immediately garnished with the parsley and lemon wedges.