Spinach and Feta Falafel Cones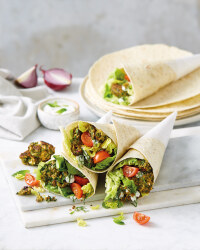 Recipe Information
Ingredients
Falafel
400g tin Chickpeas, drained
240g Baby Spinach Leaves
150g Feta Cheese
2 Garlic Cloves
2 tsp Paprika
1 Small Red Onion
5g Fresh Mint
40g Plain Flour
Sea Salt and Black Pepper
4 Mediterranean Tortilla Wraps
Sunflower Oil to fry
Salad
150g Cherry Tomatoes
1 Small Red Onion
1 Little Gem Lettuce
8g Fresh Coriander
100g Greek Yogurt
1 tsp Mint Sauce
Juice ½ lemon
Method
Pour some boiling water over the spinach in a mixing bowl, stir the leaves around to wilt them, then drain, squeezing as much moisture out of the spinach leaves as possible.
Peel and finely chop 1 red onion then peel and mince the garlic. Chop the fresh mint.
In a food processor add the spinach along with the chickpeas, garlic, onion, mint, flour, paprika and crumble in the feta cheese – blitz until almost smooth. Place into a bowl and season with some salt and pepper and put in the fridge for 30 minutes to firm up.
Meanwhile, to make the salad, peel the other red onion and finely chop. Then finely chop the tomatoes and shred the lettuce. Chop the coriander. Mix all the salad ingredients together and place to one side.
Mix the yogurt with the mint sauce and the lemon juice.
Remove the falafel mixture from the fridge and divide into 12 portions – about 45g each. Roll into balls and then flatten slightly. Fry in batches in some oil for 3 minutes each side. Keep warm while you fry the rest.
Roll the wraps into cones – fill with salad and add 3 falafels to each – spoon over some dressing and serve.