British Sunday Dinner classic slow-roasted whole chicken. Ideal for a bright Spring afternoon.
Spring Roast Chicken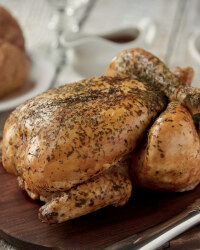 Recipe Information
Ingredients
1.6kg Red Tractor British Stuffed Whole Chicken
300g Leeks
300g Brussels Sprouts
1 Lime
1 Quixo Chicken Stock Cube
2 tsp Stonemill Parsley
2/3 cloves Garlic
1 700g pack 4 Ready Baked Jacket Potatoes
40ml Solesta Olive Oil
1 dsp Quixo Onion Gravy Granules
Butter for the jacket potatoes
Method
Preheat the oven to 190°C/375°F/Gas Mark 5.
Put the chicken in its bag in the oven and cook as per instructions on the pack for 1 hour 40 minutes.
After the chicken has been roasting for 50 minutes, put the baked potatoes in the oven on a baking tray.
Meanwhile zest and juice the lime and peel and finely chop the garlic.
Put the lime zest and juice in a small saucepan and add the chopped garlic and dried parsley then crumble over the chicken stock cube.
Thinly slice the leeks and sprouts then wash and dry.
Just before the chicken is cooked, sauté the leek and sprouts in a large frying pan or wok with the olive oil for 5/7 minutes until just starting to brown.
Keep warm.
Take the chicken out of the bag and put any cooking juices in a measuring jug.
Cover the chicken with some tin foil and let it rest while you make the sauce.
Make up the liquid in the measuring jug to 400ml with some boiling water.
Pour this over the lime mixture, stir well and bring to the boil, simmer for 2/3 minutes then thicken the sauce with the onion gravy granules and serve alongside the chicken, leek and sprout sauté and baked potatoes.
Aldi Wine Matches
Looking for the perfect wine match for this recipe? See below for our dedicated recommendations:
Lot Series 05 Leyda Sauvignon Blanc 2014
Lot Series 07 Bushvine Chenin Blanc
Lot Series 12 Anjou Chenin Blanc 2013