St Patrick's Day Stew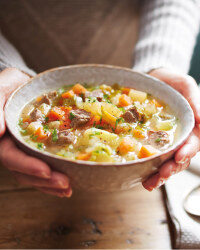 Recipe Information
Ingredients
300g Lamb Leg Steaks
2 medium Onions, finely chopped
250g Carrots, chopped
200g Swede, chopped
300g White Potatoes, chopped
2 sticks of Celery, chopped
2 medium Leeks
30ml Vegetable Oil
1½ litres Water
2 Beef Stock Cubes
1 tsp Dried Thyme
Salt and Pepper
Fresh Parsley
Method
Trim any fat from the lamb steaks and cut into small chunks.
Put the lamb chunks and the onion in a large saucepan with the oil and sauté until the lamb is browned.
Add the water, crumble over the stock cubes and bring to the boil.
Add the carrots, swede, potatoes and celery to the pan.
Meanwhile, wash the leeks well, cut in half lengthways, slice and add to the pan.
Sprinkle over the thyme and season with some salt and pepper.
Cover the saucepan and simmer for 45-50 minutes.
Check the seasoning then ladle into bowls.
Chop the parsley and sprinkle over the soup.