Chicken breast with a delightfully zesty twist. Ideal for Spring evenings.
Steamed Chicken Breast with Citrus and Coriander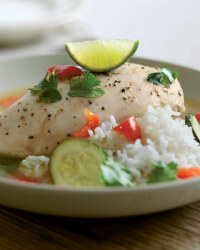 Recipe Information
Ingredients
4 skinned and boned Chicken Breasts
2 Large Courgettes, thinly sliced
2 Red Peppers, roughly chopped
4 tbsp Coriander, roughly chopped
Juice of 2 limes
Coarse ground black pepper
2 small glasses of white wine
Quixo chicken stock cube
1 small glass of water
4 tbsp Solesta Olive Oil
340g Basmati Rice
Find your ingredients online on Click & Collect or find your nearest store using our Store Finder.
Method
Pre-heat the oven to 220°C, gas mark 7.
Tear off 4 large pieces of tinfoil, then place onto a chopping board.
Put half a sliced courgette, overlapped, onto the centre of each piece of foil and the chopped red pepper and coriander on top.
Place the 4 breasts onto the courgettes and peppers, season and squeeze over the fresh lime.
Bring the wine, stock cube and water to the boil in a saucepan.
Fold up one end of the foil so you have a tight seal and carefully pour in half of the chicken stock and white wine to each packet.
Then place them into a deep roasting tray and pour a little boiling water in the bottom to prevent them catching.
Cook in a pre-heated oven for 15-20 minutes.
Once cooked, do take care when you open the foil packets as the steam will be very hot.
Pour into bowls, drizzle over a touch more olive oil and serve with lime segments and steamed basmati rice.