Strawberries don't just have to be for dessert. Sweeten up your greens this summer with our Scottish strawberries.
Strawberry and Chicken Salad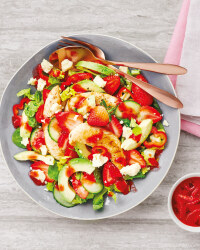 Recipe Information
Ingredients
400g Fresh Scottish Strawberries
1 x 375g pack Scottish Mini Chicken Fillets
100g Scottish Vintage Cheddar
Romaine lettuce heart
80g Watercress or Spinach leaves
2 Avocados
4 sticks Celery
1 x 150g pack Sweet Mini Peppers
½ Cucumber
Juice ½ Lemon
15ml Balsamic Vinegar
Pinch Chilli Powder
Sea Salt and Black Pepper
50ml Olive Oil, plus a little extra for frying
Method
Wash, hull and chop 100g strawberries.
Put them into a food processor along with the lemon juice, balsamic vinegar, olive oil and the chilli powder.
Season with a little salt and some black pepper, then process until smooth.
Wash the lettuce – dry and shred.
In a large salad bowl add the lettuce along with the watercress or spinach.
Wipe the celery, chop and add to the salad.
Slice the cucumber and add to the salad.
Cut the peppers in half lengthways, remove any seeds, slice and add to the salad.
Cut the avocado in half lengthways, remove the stone, scoop out the flesh and slice, then gently toss with the salad.
Wash, hull and slice the remaining strawberries and add these.
Sauté the chicken strips in a frying pan in some olive oil until cooked through.
Crumble the cheese.
Add the warm chicken strips and the crumbled cheese.
Drizzle over the dressing and serve.