Sweet and tangy strawberry flavours - perfect for summer parties.
Strawberry Kiss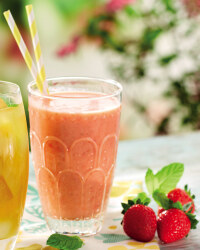 Recipe Information
Ingredients
227g punnet Strawberries
20ml The Pantry Lemon Juice
150ml Del Rivo Pineapple Juice
50ml Single Cream
Method
Wash, hull and chop the strawberries.
Put them with all the other ingredients in a food processor – blitz until smooth and serve.