Get game, set and match ready with these delicious Wimbledon inspired recipes.
Strawberry Tarts with a Net Top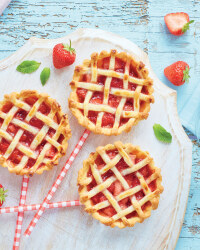 Recipe Information
Ingredients
2 packets Greenvale Ready Rolled Shortcrust Pastry
225g Grandessa Strawberry Conserve
200g Strawberries
1 tbsp Icing Sugar
300ml Cowbelle Double Cream (to serve)
Method
Pre-heat your oven to 180˚C/350˚F/Gas Mark 4.
Roughly chop the strawberries and place them in a pan with the strawberry jam. Cook on a medium heat until the strawberries begin to soften and the jam is bubbling. Chill this mixture and prepare the pastry.
Using one packet of the shortcrust pastry line the 6 individual tart tins, pressing a rolling pin over the top to remove any excess pastry.
Place a small circle of scrunched up greaseproof paper over each tart, place some baking beans on top (dried lentils or rice will also work) and bake for 10 minutes. Remove the baking beans and greaseproof paper and return to the oven for another 5 minutes until the pastry is cooked.
In the meantime, using the second pack of pastry, cut 1cm wide strips (long enough to go across the tart cases). You will need 8 strips per tart.
When the strawberry filling has cooled, distribute between the cooked tart cases.
Place 4 strips of the pastry in diagonal lines on top of each tart. Turn back the 2nd and 4th strips of pastry, lay a horizontal strip across then place them back. Repeat with the 1st and 4th strips and place another horizontal strip across. Do this for the other 2 strips until you have created a lattice top.
Press the edges of the raw pastry strips onto the tart and place in the oven for 15 minutes until the pastry is cooked and golden.
Finally, lightly sieve the icing sugar over the tarts when they are still hot (as the heat of the filling will melt the sugar so that only the pastry will look dusted), to finish the 'net' and serve with a dollop of cream.