Sparkling summer cocktail made with blueberry, lemon, ginger and mint leaves.
Summer Blues Mocktail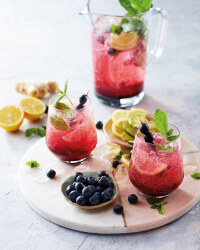 Recipe Information
Ingredients
300g blueberries
25g piece of peeled fresh ginger – grated
2 x tsp caster sugar
Juice x 2 lemons
30 mint leaves
1 x bottle Sparkling lime and lemon water
Ice
To garnish:
Extra blueberries
Slices of fresh lime and lemon
Method
1. Put the blueberries, lemon juice, ginger and caster sugar into a small pan and cook on a low heat till the blueberries start to soften. Using a back of a wooden spoon squash them till the juices start to flow. Cook for a few more mins until the pulp is very soft.
2. Pour all the content of the pan through a sieve and with the spoon squash the berries through the sieve and discard of the skins.
3, Divide the blueberry juice between 4 tall glasses, then divide the mint between the glasses and with the end of a wooden spoon muddle the mint to release the flavour.
4. Add some ice and top up the glasses with the sparkling water.
5. Add some slices of lemon and lime and make a blueberry stirrer by adding a few blueberries to a wooden kebab stick.
6. Add a sprig of mint and serve!