Get excited for Greece!
Our Taste of the World Tour takes you to an exciting new destination every week. Join us as we finally head over to Greece! We'll be shining a spotlight on all the incredible family dishes, the iconic art and more local delights. Let's go!
It's Greek week! What's on the menu?
Celebrate your week of Greece with delicious local dishes like world-famous gyros and delicious grilled kebab towers. You'll find how to make these and plenty more in our cookbook. Explore the full collection and find ideas for every course and occasion.
Create your own Greek spa!
This year's all about staycations – but that doesn't mean missing out on fun! As the Greeks have a tradition of health and wellness (think Thalassotherapy), mum @what_effie_did transformed her home into a spa hotel with treatments, relaxing fragrances and serene décor inspired by Aldi, while her children found an ideal yoga book in our Specialbuys!
Greek fun for the family
Instagram mums @hollyrosebenham and @sophie.et.al have created amazing activities to make Greek week extra fun. Get your little ones to try these brilliant place cards and Greek art activities. Download the full guides to see how they're made!
Greatest hits of Greek week
Our Swap and Save families have gone all out for Greece week! They've been doing all the fun activities together and trying out the recipes too. Take a look at what they loved the most and start planning your own amazing celebration.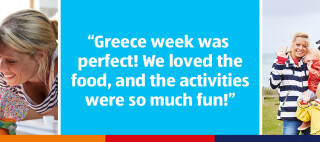 A new family favourite is definitely Greek avocado salad. It's fun to make and even better to taste!

Making place cards is a fun way to turn dinner into an event, and a great way to spend a few hours being creative in the house!

In place of the Olympics, our families tried their hand at their own events! They raced, jumped and threw themselves into everything.
Jet set with Get Set to Eat Fresh
Learn about new dishes and new places around the world with our Get Set to Eat Fresh Worlds of Food guides. They're great for teaching young children and teenagers the importance of eating healthily and how different cultures use fresh foods in their delicious dishes.
See you in the Summer Club!
Fill your days with fun craft ideas and exciting challenges! The Summer Club has plenty of both and a few extra surprises every week too. Get started with a wonderful celebration of Italy filled with incredible food and family fun. Don't forget to show everyone your best bits and funniest fails across social media.
Welcome to Aldi's Taste of the World Tour.
Where shall we go?
Everything covered for summer
Away from our worldwide tour, you'll find everything you need to make your summer amazing in store and online. Get recipe inspiration in the Taste Kitchen, restock your drinks cupboard with online orders, and pop in store for your big shop. Plan it all here.