Wave hello to Mexico!
The last leg of our Taste of the World tour takes us to the land of sunny beaches, tequila, mariachi bands and spicy food – Mexico! This week we'll be showcasing the country's best dishes along with some exciting crafts and activities for the kids. Ay, caramba!
Create an amazing Mexican menu
With so many exciting dishes and incredible flavours, it's easy to see why the world loves Mexican food. Take your pick from our wide selection of recipes and enjoy an amazing family meal every night this week!
Let's party, Mexican-style!
Instagram super cook @mousetrapbites is celebrating this week's destination with a special Mexican Night! Check out her party plans and find some inspiration for your own fun night in.
Mexican fun for the family
We asked amazing Mum @aliceshealthylifestyle and top Dad @at_dads_table to help us celebrate Mexico Week with some fun arts and crafts for the kids. They came up with 2 brilliant ideas you can try at home. Give cactus art and Mexican murals a try with your little ones. Download the full guides to get started.
Try Nile's Rope Challenge!
Mexico's national sport is 'Charreria', similar to a US rodeo – and top Team GB gymnast Nile Wilson has set you a skipping challenge using four of the rope techniques used by the old ranch hands – can you do them all?
Mexico's best bits
From making amazing meals together to trying the fun Team GB challenge, our swap and save families have loved their week of Mexico. See their top picks and start planning your own week!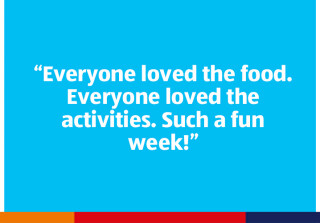 The kids got their hands sticky with an arty afternoon. The result definitely deserves a place on the fridge.

These chicken enchiladas were so tasty! Everybody enjoyed making their own special flavour combinations.

We might not be ready for the big stage, but I think we did pretty good! We loved trying this as a family.
Jet set with Get Set to Eat Fresh
Learn about new dishes and new places around the world with our Get Set to Eat Fresh Worlds of Food guides. They're great for teaching young children and teenagers the importance of eating healthy and how different cultures use fresh foods in their delicious dishes.
See you in the Summer Club!
Fill your days with fun craft ideas and exciting challenges! The Summer Club has plenty of both and even a few more extra surprises every week. Now it's time to make a traditional Spanish Piñata with hidden treats inside. Then give Nile Wilson's challenge a try and share your efforts with us on social media.
Welcome to Aldi's Taste of the World Tour.
Where shall we go?
Everything covered for summer
Away from our worldwide tour, you'll find everything you need to make your summer amazing in store and online. Get recipe inspiration in the Taste Kitchen, restock your drinks cupboard with online orders, and pop in store for your big shop. Plan it all here.