A taste of America
Time to get inspired and serve up some mouthwatering delights from our Taste of the World tour. Every week, we're shining a spotlight on a new destination. This week? The US of A. Think big fat cheeseburgers, fluffy pancakes and the Big Apple!
American recipes to make together
When you think of American food your mouth should start to water – juicy burgers, bagels, Cobb salads, crispy bacon and fluffy pancakes. There's no denying it, American cuisine is something we Brits find deliciously appealing. Here's a few of our favourite American Recipes from our worldwide cookbook to recreate – all quick, easy and delicious.
World-class challenges for the family
Team GB travel all over the world picking up new recipes and tricks all the time. Gold-medallist Alistair Brownlee spent some time in the US earlier this year and came home with the Big Apple challenge. Watch how it's done and share your own efforts on our social channels.
Join the family holiday fun
The Bookers have fallen in love with all things American this week. Take a look at how they've got on with our tasty recipes, fun challenges and crafty inspirations. Get your own family involved and share all the fun!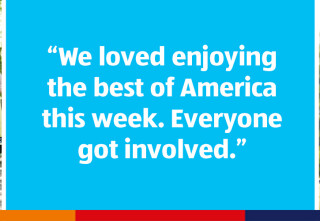 The Booker kids couldn't wait to wake up to our real American pancakes. It's always a bonus when you can add your own toppings too!

Dad took a bite out of the Big Apple challenge and proved his strength. He even beat Alistair Brownlee! See how you get on with this week's Team GB challenge.

The Bookers spent an afternoon making a delicious American flag cheesecake! They added their favourite fresh fruit to make the stars and stripes.
Jet set with Get Set to Eat Fresh
Learn about new dishes and new places around the world with our Get Set to Eat Fresh Worlds of Food guides. They're great for teaching young children and teenagers the importance of eating healthy and how different cultures use fresh foods in their delicious dishes.
See you in the Summer Club!
Fill your days with fun activities and exciting challenges! The Summer Club has plenty of both and even a few extra surprises. This week, join The Bookers and jet off to the USA for amazing food, family crafts and a fun challenge set by Team GB's Alistair Brownlee. See how much you can do with your little ones.
Welcome to Aldi's Taste of the World Tour.
Where shall we go?
Everything covered for summer
Away from our worldwide tour, you'll find everything you need to make your summer amazing in store and online. Get recipe inspiration in the Taste Kitchen, restock your drinks cupboard with online orders, and pop in store for your big shop. Plan it all here.