This super-healthy Italian dish is a twist on the traditional spaghetti and meatballs.
Super Green Courgetti and Meatballs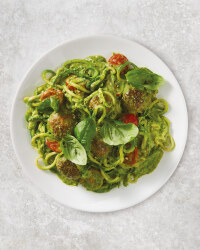 Recipe Information
Ingredients
Courgetti and Meatballs
500g x 5% Fat Minced Beef
4 Large Courgettes
100g Cherry Tomatoes, halved
1 tbsp Crème Fraîche
1 tbsp Olive Oil
½ tsp Salt
½ tsp Pepper
Fresh Basil
Super Green Sauce
2 Spring Onions
1 Garlic Clove
1 tbsp Olive Oil
200g Spinach
150g Frozen Garden Peas
2 tbsp Lemon Juice
¼ tsp Salt
¼ tsp Pepper
Method
Use a spiralizer to prepare the courgettes by turning them into courgetti.
Then, cook the courgetti in a pan of salted, boiling water for 1 minute, until just tender. Drain and save 150ml of the cooking water.
Season the beef with the salt and pepper and mould into about 20 evenly-sized, small meatballs and keep in the fridge until needed.
To make the green sauce, thinly slice the spring onions and garlic clove.
Heat the olive oil in a frying pan, add the spring onions and garlic, then cook for a couple minutes until softened.
Add the frozen peas and spinach to the pan, along with a couple tablespoons of the reserved cooking water.
Season the mixture with the salt and pepper and heat until the peas are cooked and the spinach has wilted.
Add the pea mixture to a food processor with half of the remaining reserved water and lemon juice, then blitz into a smooth green sauce, adding more cooking water if needed.
Heat the remaining oil in a pan and fry the meatballs for 15 minutes, turning when necessary.
When the meatballs are nearly cooked, add the halved cherry tomatoes and cook for another 5 minutes.
Finally, add the green sauce and courgetti into the pan and cook until the sauce is heated through, then stir in the crème fraîche.
Garnish with the fresh basil and serve immediately.