An easy, crowd-pleasing vegan appetiser. Also, a super healthy snack.
Sweet Potato & Avocado Bites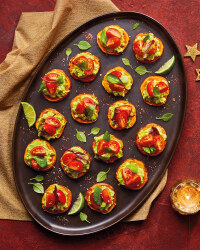 Recipe Information
Ingredients
3 small Sweet Potatoes, 1cm slices
½ tsp Smoked Paprika
½ tsp Cumin
¼ tsp Salt
1 tbsp Olive Oil
For the topping:
1 Avocado
Juice of 1 Lime
Pinch of Salt
7 Cherry Tomatoes
Handful of Salad Leaves
Method
Pre-heat the oven to 200°C/Fan 180°C/Gas Mark 6.
Place the sweet potato slices on a baking tray.
Drizzle with the olive oil and sprinkle with the spices and salt.
Bake in the oven for 15 minutes.
In the meantime, remove the flesh from the avocado and mash together with the lime juice and salt.
Slice the cherry tomatoes into quarters.
Remove the sweet potato from the oven.
Top with the avocado mixture, tomatoes and a few sprigs of salad leaves.
Serve immediately.