Sweet Potato and Spinach Quesadillas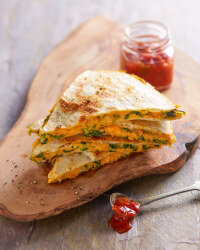 Recipe Information
Ingredients
1kg Sweet Potatoes
1 x 240g Pack Spinach Leaves
1 x Large White Onion
1 Pack Village Bakery Garlic Wraps
1 x Heaped tsp Stonemill Chilli Powder
1 x 215g pouch Cucina Mozzarella Cheese
100g Grated Cheddar Cheese
Sea Salt and Black Pepper
1 x 300g Jar Snackrite Tomato Salsa
Method
Peel and cut the potatoes into big chunks and boil in some slightly salted water for about 15 minutes until tender. Drain and mash.
Peel and finely chop the onion then sauté in a little oil in a saucepan on a low heat until translucent.
Slice the spinach leaves then add to the cooked onions, cover with a lid and gently cook until wilted. In a large bowl, add the potato mash, onion and spinach.
Drain the mozzarella and grate. Put this and the cheddar cheese into the bowl, season with the chilli powder, some black pepper and a little salt. Mix well.
Divide the mixture over four of the wraps, spreading evenly over the whole area. Put another wrap on top.
Heat a little oil in a large frying pan and fry each wrap on both sides for about 3-4 minutes until crisp.
Keep the cooked wraps warm in the oven while you fry the rest. Cut into wedges and serve alongside the salsa.