For lamb lovers everywhere, this is the ultimate alternative to the traditional beef burger
Sybil MacPherson's Scotch Lamb Burgers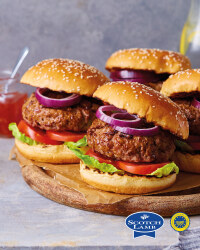 Recipe Information
Ingredients
1kg Scotch Lamb Mince
2 slices White Bread
Sea Salt and Black Pepper
1 medium Red Onion, finely chopped
50g Feta Cheese, crumbled
1 small Red, Yellow or Green Pepper, finely chopped
3 cloves of Garlic, minced
1 large Vine Tomato, finely chopped
Season with – Cumin, Fresh Rosemary, chopped Fresh Mint, Chilli Flakes, a little grated Ginger, Mango Chutney, drizzle of Honey or Curry Powder.
Method
To make the breadcrumbs, blitz the bread in a food processor.
In a bowl, mix with the minced lamb and some salt and pepper, taking care not to over mix. Now add the onion, feta cheese, pepper, garlic and tomato, along with the seasoning – divide into 6 or 8 portions.
Roll into balls – flatten with the palm of your hand to make burger shapes.
Rest, covered in the fridge, for 30 minutes.
BBQ or grill for 4-6 minutes on each side – depending on how you liked yours cooked.
Serve on toasted buns with lettuce, sliced tomato and red onion rings.